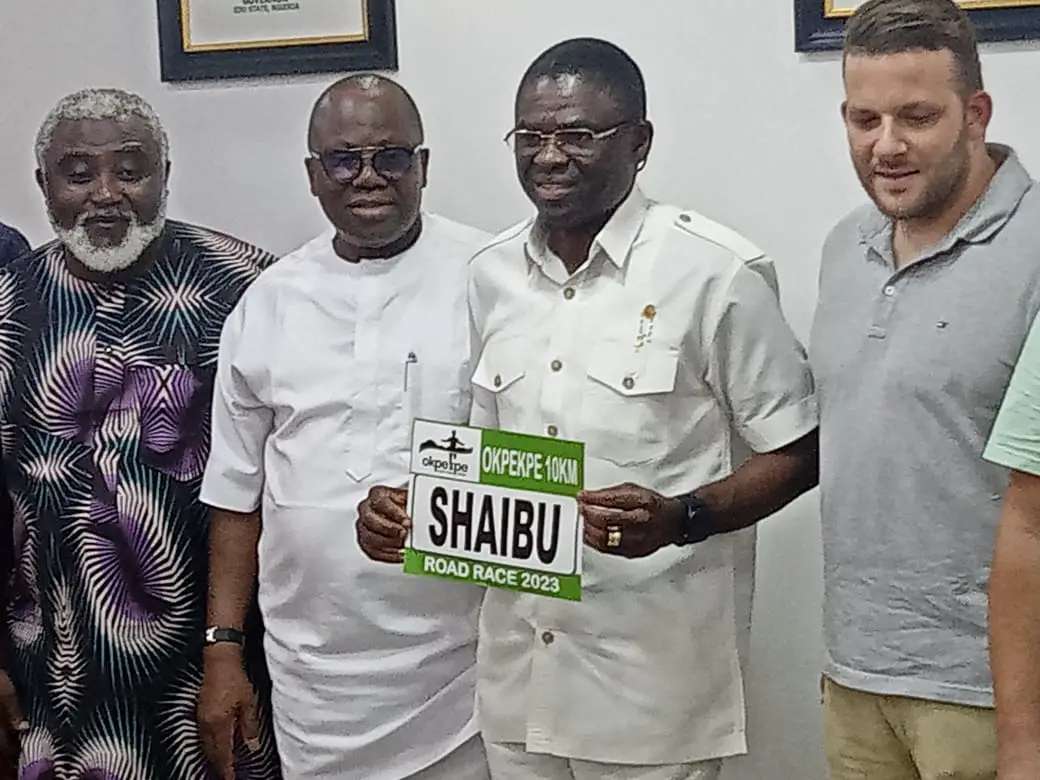 The sports-loving Deputy Governor of Edo State, Comrade Philip Shaibu, will flag off the ninth Okpekpe International 10km Road Race this Saturday in Okpekpe.
Dare Esan, the Media and Activation Director for the historic, first 10km road race in Nigeria says Shaibu will play a dual role at the race.
"His Excellency the Deputy Governor of Edo State, Comrade Philip Shaibu will perform the traditional flag-off for the race. He will also participate in the celebrity race," said Esan.
Also Read – 2023 U-20 W/Cup: Gusau Charges Flying Eagles To Beat Brazil In Final Group Game
Shaibu was presented with his bib in a colourful ceremony on Wednesday at an impressive ceremony in Benin after he registered online for the race.
"The Deputy Governor filled his form via the online platform like all others because he is still an active sportsman who has taken Edo State sports to greater heights," added Esan who revealed that all eyes will be on the 53 years old to see if he will break his lifetime best in the 10km event.
Meanwhile, Dan Oil and Petrochemicals Limited has joined the list of corporate partners for the race. One of the leading indigenous oil and gas companies, Dan Oil has always associated with the race.
"We are delighted that one of the leading indigenous oil and gas companies in Nigeria whose services are tailored to meet and deliver the energy demands needed to move equipment and machinery needed to drive the Nigerian economy is partnering with us again to deliver another world-class event," said Esan.
The Media and Activation Director is thrilled with the way the Race has been receiving support from corporate Nigeria and believes that getting the Platinum label the Deputy Governor spoke about on Wednesday will be realised sooner rather than later.
Sean added: "We are the first road race in Nigeria to get a World Athletics label status and this was in 2015. We are also the first to have its race course measured and the first 10km race in Nigeria to be granted a gold label status."
The ninth edition of the race will hold this Saturday in Okpekpe, Etsako East Local Government area of Edo state.
The post Edo Deputy Governor To flag Off 9th Okpekpe Race; Dan Oil Partners With Organisers appeared first on Complete Sports.